Inspire began in 2011 when a number of Christian groups in and around Cambridge started talking and thinking about creating spaces for prayer and reflection.
Inspire Prayer Spaces grew out of those discussions.
With the Church Schools of Cambridge providing the essential grant to purchase equipment, and for GenR8 to employ a worker to co-ordinate and deliver Inspire Prayer Spaces within Cambridge and the surrounding area.
Since then Inspire Prayer Spaces has visited over 20 primary schools in the county, equally split between Church and Community schools.
We have trained teachers, children's workers, volunteers and Church leaders, and are currently the named centre for the local network within the Eastern region of Prayer Spaces in Schools – the national organisation providing resources, as well as coordinating and training others to take Prayer Spaces into schools across the country.
So what is a Prayer Space?
A Prayer Space is a simple inspiring installation that provides a space for children to reflect and develop spiritually, to take time from a busy school day to consider the wider questions of what they think and believe.
Prayer Spaces encourage certain activities which can be grouped into zones. For example, the world, forgiveness, thank you.
They give children a hands-on opportunity to reflect on their identity, values and emotions.
In addition, Inspire Prayer Spaces give children access to imaginative activities to explore spirituality in fresh creative ways. Using various fun, reflective and colourful stimuli to create temporary structures.
No one is required to pray.
The prayer spaces are designed for children of faith and those with none.
For children who do not wish to pray, they will be encouraged to think about their own beliefs and feelings, and enjoy being in a relaxing atmosphere.
Fizzy Forgiveness                             Heroes                            Loving Your Enemies
How Prayer Spaces work
Inspire Prayer Spaces is usually invited by a school and local church to set up a number of prayer stations somewhere on the school premises – usually a classroom – or if that isn't possible, in the local church.
We might set up for a day or two, depending on the school's wishes. And there may be a theme for the duration, e.g. Easter, friendship, or we might simply offer a range of topics.
Usually we will try to enhance part of the RE curriculum or the SMSC content (Spiritual, Moral, Social and Cultural) because we are keen to embed the experience into the work of the school, rather than the visit be a one off isolated event.
We always work with volunteers from the local church who will help set up and run the day. This way we can enhance and support that ongoing relationship, and potentially enable further contact between school and church.
In most schools, class teachers will bring their students to the space for a lesson.
The children generally work in small groups of three and will work in silence or as near to that as possible, moving around the spaces at their own pace.
The volunteers will only intervene when invited to do so by a child or if something in the prayer space needs attention.
We talk together at the beginning and the end of the session, which lasts about an hour. This is where we will often hear about significant moments of self-discovery and insight.
Sometimes staff and parents will come and enjoy the quiet spaces too.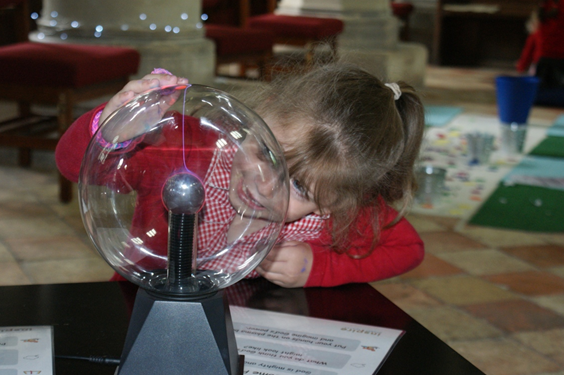 Plasma Ball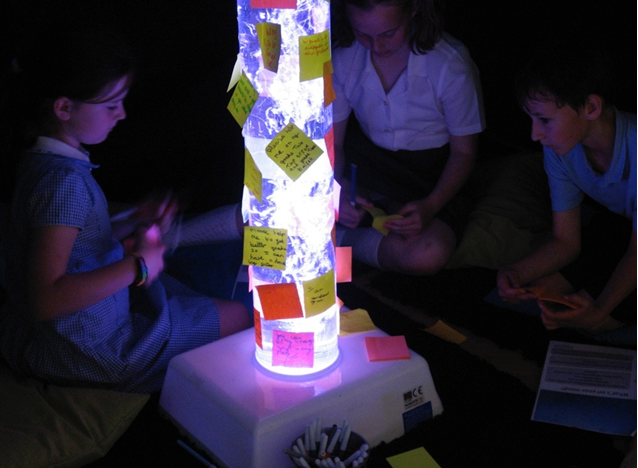 Bubble Tube
The pedagogy behind Prayer Spaces
Inspire Prayer Spaces provide resources which help the children to look outwards from their own world view and consider someone else's – like looking through a window.
Or it could be that the resource is similar to a mirror which invites a child to look inward and consider who they are and what they might believe.
Different resources encourage a response from a child by doing something.
All activities will begin with an idea, question or experience with which they are familiar so that they might easily connect with and relate to the prayer space.
The installations will be relevant, clear and simple, with the practical activity clearly linking with the reflection.
Doing something is almost always better than just looking, so generally the prayer spaces will be interactive as well as multi-sensory.
We try hard to make the space very welcoming and visually stunning, as well as being careful to be inclusive – no child should feel uncomfortable or excluded because of their ability, religion of cultural background. However, all activities are rooted in the Christian faith and will accurately portray it, even if that might not be obvious to the child.
We hope that all children and adults who experience Inspire Prayer Spaces, leave feeling more confident about the possibility of praying in any way and at any time.
Through Inspire, we teach young people skills to aid their spiritual development which they can use once they have left the prayer spaces. For example, being quiet, reflective, having greater self-knowledge.
"I like the thinking room (bubble tube) because it was peaceful… it is good to have some peace and quiet…" – Student
"Washing my friend's hands made him happy which made me happy." – Student
"I enjoyed the bracelets because I got to think about my family and friends." – Student
"I liked giving and sharing the bread with other people." – Student
"When I wiped the magna doodle it felt like a weight had been lifted off my shoulders." – Student
"Wow! What an amazing day. Thank you so much for the experience…"– Teacher
"…the awe and wonder on their faces…some of the deep responses… thank you for this opportunity to stop and reflect." – Teacher
'" … personally found it an emotional experience."  – Head Teacher
"Prayer spaces is a peaceful relaxing time to think of God with others…for thinking about how special we are" – Student
"It was beautifully presented, super content with lots of opportunity for personal development (for everyone taking part)" – Church Volunteer