---
Victoria Goodman who designs and runs the Exhibitions and Workshops for the Church Schools of Cambridge is also involved with the Spiritual Child website.
Resource packs
Into the Wilderness – Spring 2019
During the season of Lent Christians get ready to celebrate the great mystery of Easter. Sometimes they go into the desert, but often that is not possible. So often they remember the stories of people who went into the desert. Some Christians give things up or try to live simpler lives. Some Christians pray and try to make a desert inside their mind, so they can come close to God. Children heard three stories about people who went into the wilderness; Mary of Egypt (went into wilderness over the River Jordan, like Jesus), Saint Brendan (went into a watery wilderness), Mildred Cable (went into the Gobi Desert) .
Creation – Autumn 2018
Shed for Lent
'Shed for Lent' was a schools' exhibition held in St Philip's Church, Cambridge.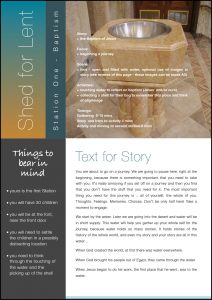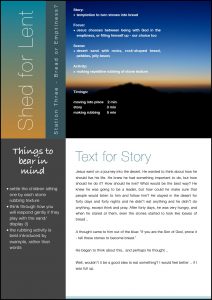 Workshops
The following workshop material can be found on the http://www.spiritualchild.co.uk/index.html website
Easter pack covering the holy week to be used for home schooling.