---
Victoria Goodman who designs and runs the Exhibitions and Workshops for the Church Schools of Cambridge is also involved with the Spiritual Child website.
Resource packs
Christmas – 2020
This has been a troubled year, where many things that seemed 'normal' have been stripped away, We have created this material to provide a Biblical approach to Christmas that peels away the extra layers that have built up over nearly two thousand years of re-telling. It looks at the entire story, rather than focusing in on the stable.
It is a Godly Play style story of the 'whole story'. It can be told in three parts or as one.
There are three videos to accompany the story, which are shown below.
Easter – 2020
Resources that children and families can use at home during HolyWeek and
Easter to support the Christianity section of the RE curriculum in school.
An Easter Adventure

Creation – Spring 2020
Christians believe that in the beginning, God created the heavens and the earth. God looked it all: light, water, land and green and growing things; sun, moon. Christian, Jewish and Muslim people believe that this is our world – God's loving gift of creation – given to each one of us. The exhibition focused on the stories of God's prophet (Jeremiah), some stories of Jesus and some word pictures from the prophet Isaiah and the apostle Paul. The children were encouraged to think about the stories and the world around them. 
Into the Wilderness – Spring 2019
During the season of Lent Christians get ready to celebrate the great mystery of Easter. Sometimes they go into the desert, but often that is not possible. So often they remember the stories of people who went into the desert. Some Christians give things up or try to live simpler lives. Some Christians pray and try to make a desert inside their mind, so they can come close to God.  Children heard three stories about people who went into the wilderness; Mary of Egypt (went into wilderness over the River Jordan, like Jesus),  Saint Brendan (went into a watery wilderness), Mildred Cable (went into the Gobi Desert) . 
Shed for Lent
'Shed for Lent' was a schools' exhibition held in St Philip's Church, Cambridge.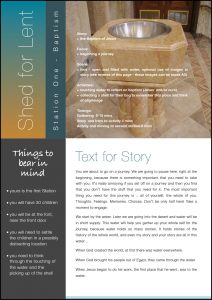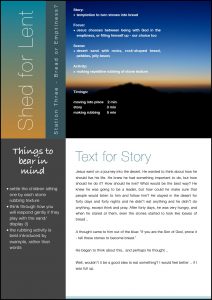 Workshops
The following workshop material can be found on the http://www.spiritualchild.co.uk/index.html website
An Easter pack covering the holy week to be used for home schooling.