Children at St Lukes Church of England Primary School have created a large Mosaic shown below for the school entrance.
This exciting project involved children and parents at the school. The children were involved in the design as well as the construction as they were all able to lay pieces of the mosaic. It incorporates the updated school values which were decided together with the children and their parents.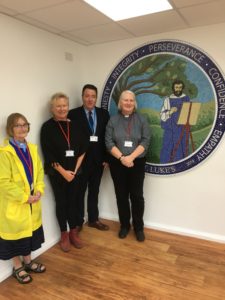 The project was funded by the Church Schools of Cambridge and the Director and several Trustees visited the school to meet with the head and children for the unveiling in September.